Meet the Team
Get to know the faces behind Home Safari – Animal Assisted Therapy.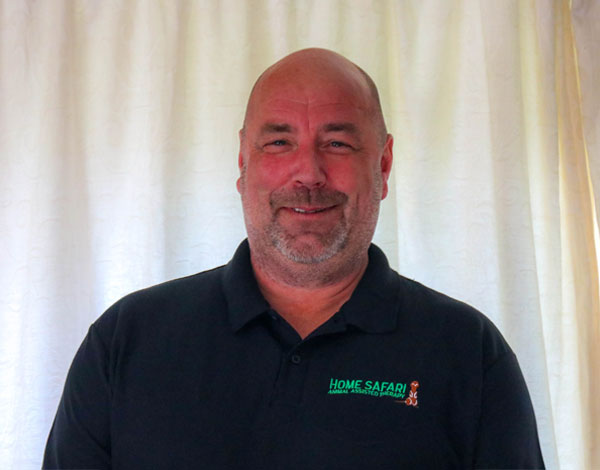 With more than 50 years experience growing up and dealing with animals, Steve has a vast knowledge of animal behaviour.
After a short time in hospital during the early 80's, Steve realised the health benefits interacting with his animals had. This ultimately led him to start Home Safari AAT.
Steve and his team have facilitated sessions of AAT/AAI for more than a decade. They've worked within the NHS and the private sector, from CAHMS to medium secure, including forensic and PICU wards. Steve has gone on to become a qualified AAT Practitioner Level 3. He has spent many years using solution-focused therapy techniques. As an EBE (expert via experience) in mental health, Steve has insight and knowledge about creating and facilitating sessions. This makes Home Safari AAT the UK's leading Animal-Assisted Therapy provider.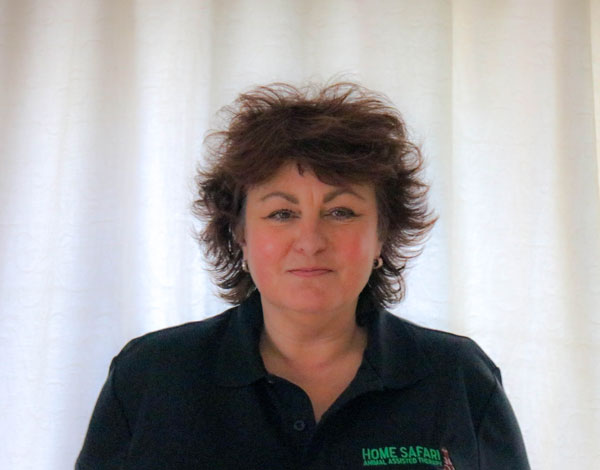 Hello, my name is Cheron and I am the wife of Steve and co-founder of Home Safari AAT. I have spent most of my life around animals, from frogs to rabbits and dogs. Then reptiles, exotics, and farm animals, all of which we keep today.
I'm a great believer in, and have a massive passion for, Animal-Assisted Therapy. This is because it helps people feel calm and relaxed when they're anxious. It also encourages them to get involved in activities when they're unmotivated. This can make them smile even when they're feeling low.
I feel very privileged to have such a career being around animals and using them to help people.
Hello, my name's Kath I have a massive love of animals that I inherited from my dad growing up with a collection of animals from snakes to parrots which have led to have my own menagerie that I now share with my own family. I have worked in the care sector for over a decade in many roles working with adults and children with learning difficulties to working with people suffering from dementia. I also gained many qualifications while in the care sector including a diploma in child development and phlebotomy. I am now working my dream job still caring for people while working with animals at the same time.
Hello, I'm Sarah and have been brought up around animals all my life. I was born into a family of animal lover's which has always been a part of who I am. Growing up I had everything from dogs and cats to birds and lobsters. We even had a chinchilla enclosure. I have volunteered for many wildlife charities as this is so important to me. Now I am a trustee for a local bird of prey sanctuary. I have a passion for all creatures whether they are fluffy feathery scaly or spikey! I am currently studying online in veterinary assistance just to further my knowledge and I hope to become more qualified in exotic animals in the future. Animal Therapy is very important to me it is always something I have done naturally all my life with my pets, I feel everybody in any situation deserve the benefits of being up close and personal with them. Mental health is close to my heart and the benefits from animal therapy really make a difference .
Interested in Animal-Assisted Therapy?
Just send us a message, using the form below, if you've any questions or wish to book an appointment.
Landline:   0151 531 1358
Mobile 1:   07507109996
Mobile 2:    07842713064